Nancy Harwood <harwood@tenet.edu>
---
Impossible Cheeseburger Pie
Heat oven to 400 degrees F.
1 pound ground beef
1 - 1/2 cups chopped onion
1/2 teaspoon salt
1/4 teaspoon pepper
1 - 1/2 cups milk
3 eggs
3/4 cup Bisquick baking mix
2 tomatoes, sliced
1 cup shredded Cheddar or process American cheese (4 ounces)
Grease pie plate, 10x1 - 1/2 inches, or square baking dish, 8x8x2 inches, or six 10 - ounce custard cups. Cook and stir ground beef and onion in 10 - inch skillet over medium heat until beef is brown; drain. Stir in salt and pepper. Spread in pie plate.

Beat milk, eggs and baking mix 15 seconds in blender on high speed. Pour into pie plate.

Bake 30 minutes. Top with tomatoes; sprinkle with cheese. Bake 5 to 8 minutes or until knife inserted in center comes out clean. Cool 5 minutes.

6 servings
---
Aunt Pauline's Cranberry Salad
2 cups ground fresh cranberries
2 cups sugar (over cranberries)
2 (3-oz.) pkgs. cherry or lemon Jell-O
2 cups hot water
2 cups pineapple juice
2 cups crushed pineapple, drained
2 cups chopped celery
1 cup nuts
Dissolve Jell-O in hot water. Add pineapple juice, cool. Add remaining ingredients. Chill until set. Serves 16.
---
Avocado Salsa
1 medium avocado, peeled and chopped
1 tablespoon lime juice
1 medium tomato, finely chopped (1 cup)
1/4 cup finely chopped onion
2 tablespoons canned diced green chilies
2 tablespoons chopped parsley
1/4 cup water 3/4 teaspoon salt
1/8 teaspoon pepper
In bowl, lightly mix avocado, lime juice, tomato, onion, chilies, parsley, water, salt and pepper. Chill or serve at once. Good as a topping for grilled hamburger patties or as a dip. Makes two cups.
---
Pancho Villa's Secret Dip
1 can refried beans
1 chopped tomato
1 can chopped black olives
1 4-ounce can green chilies, chopped
1 can guacamole (frozen) or 8-ounce carton
2 cups grated, sharp Cheddar cheese
1 small jar picante sauce
1 pint sour cream
Layer ingredients in the order given in a 9"x5" casserole dish. Serve with chips.
---
Cherry Cream Pie
1 15-ounce can sweetened condensed milk (Eagle Brand)
1/4 cup lemon juice
1/2 teaspoon almond extract
1/2 pint whipped cream
1 1-lb. 6-oz. can cherry pie filling
1 12" graham cracker crust
Blend condensed milk, lemon juice and almond extract and stir until mixture thickens. Fold in whipped cream. Pour into pie crust and spread evenly. Spoon cherry pie filling over the mixture, completely covering the cream filling. Chill at least an hour or overnight.
---
Pecan Tarts
Makes 3 - 4 dozen
Crust
1 small pkg. cream cheese
1/2 cup butter or margarine
1 cup plain flour, sifted
Filling
1 stick butter or margarine
1 cup sugar
2 eggs, separated
1 teaspoon vanilla
1 cup chopped pecans
Cream the butter and cream cheese together, add the flour and mix well. Chill the dough one hour or longer. Divide into 24 parts. Shape into balls. Press each ball into one cup of a miniature muffin tin, forming a crust with a roll around top. Leave no holes. Cream the margarine with the sugar and egg yolks, add vanilla, chopped nuts. Fold in beaten egg whites and pour into uncooked pastry shells. Bake at 350 degrees F. for 20 minutes or until brown.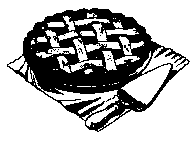 ---
---
This page is maintained by Graham Toal <gtoal@gtoal.com>